Andorra at Christmas: traditions, skiing, Christmas market, tree…
As winter approaches, it's time to start making plans for Christmas and for New Year. And, if you're an ardent skier, that might mean spending Christmas in Andorra to make the most of the thick December snowfall in the Pyrenees.
While it is possible to ski at Pyrenean ski resorts like Ordino Arcalís any time from 2nd December 2022 to 16th April 2023 for the 2022/23 ski season, skiing in Andorra at Christmas is one of the best times to visit. There are many reasons for that, from the excellent conditions on the slopes to the famous Christmas traditions in Andorra to the chance to enjoy some cheap Christmas shopping at sites like the Andorra la Vella Christmas market.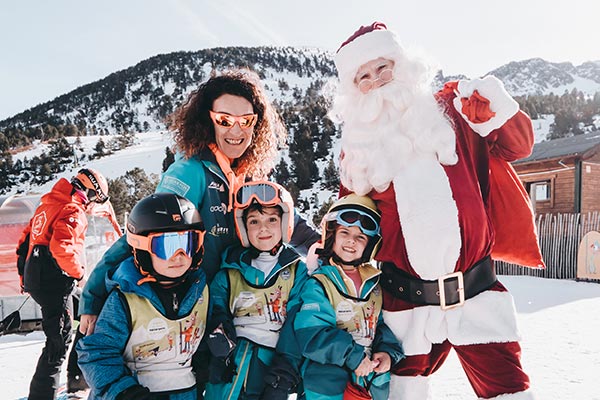 Andorra skiing Christmas: Is there snow in Andorra at Christmas?
If planning to visit Andorra at Christmas for a skiing holiday, there will absolutely be good snowfall. January and February are the months that produce the greatest snowfall in Andorra, but December also has a lot of snow to mean that quality Andorra Christmas skiing is very much possible.
In fact, just last year, the snowfall in Andorra for Christmas was so thick that the visitors to the resorts enjoyed some of the very best skiing imaginable, as Ordino Arcalís produced the best Christmas in Europe in terms of skiing conditions.
Andorra at Christmas: Traditions, skiing, Christmas market, Christmas tree…
Apart from the excellent Andorra Christmas skiing conditions, another reason to visit the microstate at this time of year is the fact that there are so many Andorra Christmas traditions. Even on site at the ski resorts, you and the whole family will be able to feel the Christmas spirit as various events are held.
Therefore, you'll be able to embrace the Christmas traditions in Andorra, like Christmas carols in the snow gardens, a torch light descent, Santa Claus visits at the ski resorts, the beautiful nativity scenes, and the famous Tió de Nadal, a traditional Andorran Christmas character who is a small wooden log and who pops up all across the principality.
The Tió de Nadal will, therefore, be on display and on sale at any Andorra Christmas market, including the famous Andorra la Vella Christmas market in the capital. In the capital of the principality, there is a lot to see when it's Christmas in Andorra, as Andorra la Vella has a Christmas Village, a giant Andorra Christmas tree, a Ferris wheel and even a special post office in Plaça Guillemó where children can post their Christmas wish lists.
Andorra Christmas market: Is it worth going to Andorra for Christmas shopping?
A major perk of visiting Andorra at Christmas time is that you can find bargain after bargain. You can have the best Christmas in Europe in terms of cheap shopping, since Andorra has the lowest VAT rate in the entire continent.
Not only is it cheap to shop in Andorra and find gifts for family and friends, but there is a huge offering of Christmas gifts, especially at the Andorra la Vella Christmas market. More than a market, it's really a Christmas village, with the hub located in Plaça de Poble. It is packed with stalls selling high-quality artisan Christmas products, while there is also winter food and drink available to make it one of the most enjoyable parts of Christmas in Andorra, along with the Andorra Christmas skiing of course!