Magic Ski Club Ordino Arcalís Andorra
Magic Ski Club Ordino Arcalís Andorra
Magic Ski Club Ordino Arcalís Andorra
Magic Ski Club Ordino Arcalís Andorre
Categoria:
Ski School Ordino Arcalís
What is the Club Màgic Ski?
Club Màgic Ski is a recreational ski club that teaches students to enjoy the mountains through respect for nature and for people. Values such as respect, cooperation and teamwork are fundamental pillars of our teaching. We have fun learning and learn by having fun.
Club Màgic Ski offers skiing lessons to children and young people throughout the season. The club's base is in the Planells zone, where the facilities are perfectly suited to little ones who have just started skiing. Older children, together with their instructor, who will accompany them for the entire season, can explore the ski resort, learning and perfecting their technique as they go.
Groups will be distributed according to the students' age and level, and lessons will always take place on the Saturdays marked on the calendar, if the 14-day option is chosen. It is also possible to enjoy the activity on weekends every 15 days.
If you choose the 28-day option, lessons will be on Saturdays and Sundays.
MÀGIC SKI Ordino Arcalís
SCHEDULE
AGES
DAYS
TIMETABLE
PRIX
BUY
Magic Ski MINI
3 to 5 years
14 days
New 28 days
New 49 days
From 10 am to 1 pm
€340
€500
€950
Online
Magic Ski KIDS
6 to 11 years
14 days
28 days
New 49 days
From 10 am to 2 pm
€500
€650
€950
Magic Ski Junior
12 to 17 years
14 days
28 days
New 49 days
From 10 am to 2 pm
€500
€650
€950
Breakfast included (mini sandwich, a piece of fruit and juice).
Payment can be made in instalments.
For any doubt or query you can contact magicski@ordinoarcalis.com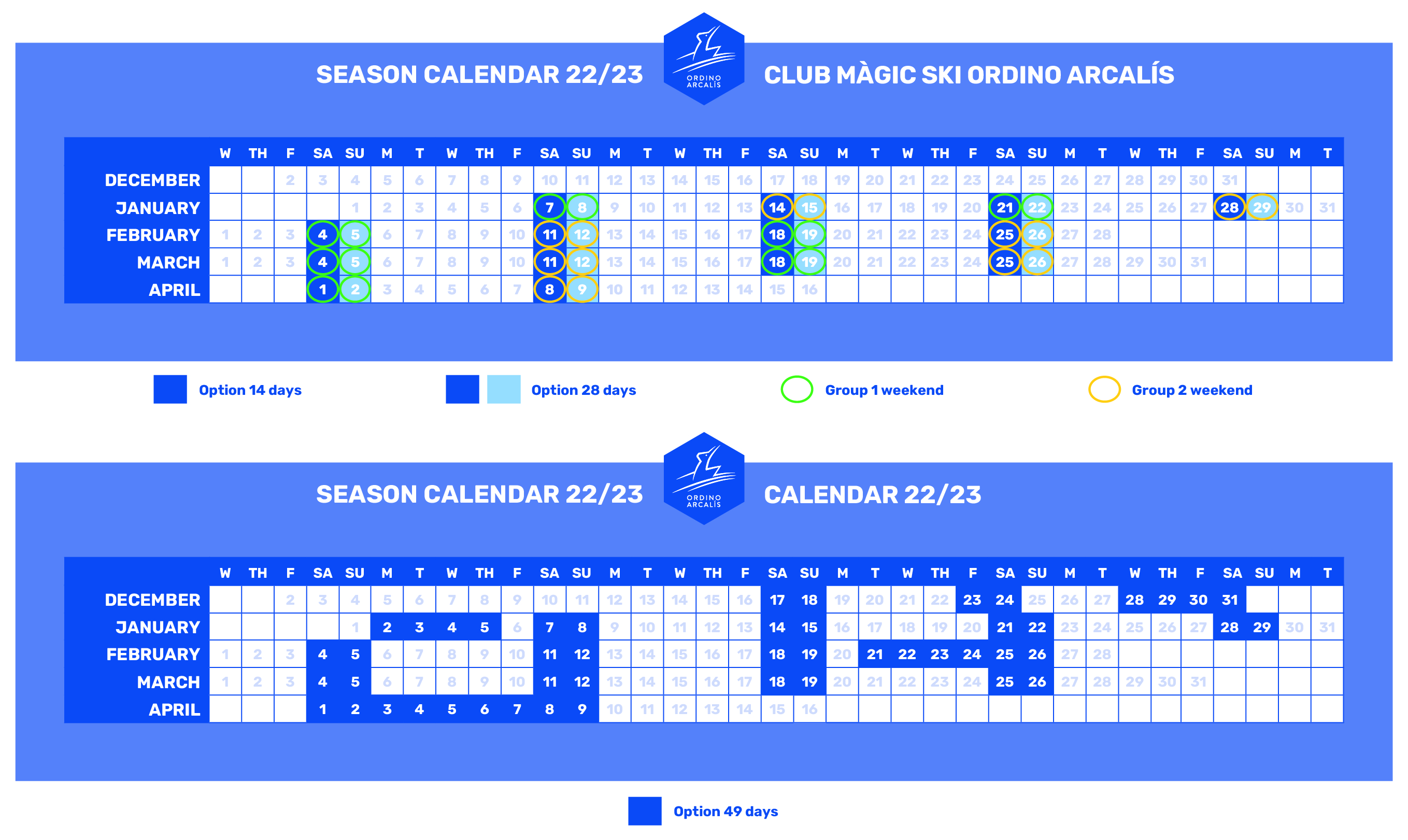 Related videos