Best ski slopes and resorts for skiing in Andorra
It's well known that Andorra is a small country, with the microstate measuring in at just 468 square kilometres, yet there are several different ski slopes in Andorra packed into this small space, each of them special in their own way.
But, what is the best ski resort in Andorra? Of all the valleys, where is the best place to ski in Andorra? In this guide to skiing in the Andorran valleys, we'll take a look through the Andorra piste map to help you understand what to expect from each of the Andorra slopes.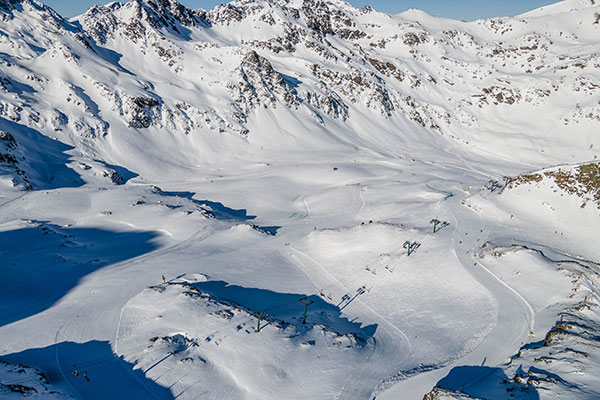 The best ski slopes and resorts for skiing in Andorra
Even though it's a small state, there are many different valleys and slopes worth checking out in Andorra, from the ski resorts of the Ordino parish in the north to those in the Sant Julià de Lòria parish in the south, and everything in between. The more central areas of Soldeu, Pas de la Casa and Encamp are all popular with Andorra's visitors too.
Whether a place is considered the best ski resort in Andorra will ultimately come down to personal preference and what each skier is looking for from their holiday. If looking for a simple ski slope then there are many fairly straight and simple options to choose from, especially within reach of the capital of Andorra la Vella. If looking for one of the more challenging Andorra ski slopes, the northern resort of Ordino Arcalís has been considered as a paradise for freeriders for several decades due to its unique geography.
Which is the best ski resort in Andorra for beginners?
If you're very much a beginner and you're wondering where to ski in Andorra then there's good news, as almost every one of the ski resorts in Andorra will have a green or blue slope that is suitable for beginners. In fact, the whole principality used to have a reputation for catering most to beginners.
Although significant time and financial resources have been invested into the ski slopes in Andorra to construct more elevated and more challenging slopes, most of the beginners' sections still remain and that means those new to the sport don't have to worry about where to go skiing in Andorra, as almost every valley will have its own starting-off point. The microstate now caters for a much wider range of skiers.
Which is the best ski resort in Andorra for families?
This wide range of skiers includes families, with children very much welcome at various resorts throughout the region of the Pyrenees. Many families like to visit the area around Soldeu in the parish of Canillo, not least because it's a popular space where it's possible for the children to make friends, but families also feel more than welcome in the Ordino parish and La Massana parish, both of which have lots of accommodation for skiers and activities for the evenings too.
Parents also love Andorran skiing holidays in the Pyrenees because it can be relatively cheap when compared to resorts in other mountain ranges. That has long been the case with Andorra and remains so.
So, now that you have a rough background as to what is skiing like in Andorra, you can start looking at the various Andorran ski resorts in more detail, working out which one ticks all of your specific boxes, whether you're an experienced skier, a beginner or planning a trip as a family.