Entry requirements and restrictions to travel to Andorra
For most people who are planning to visit Andorra for a skiing holiday, there are no Andorra travel restrictions to worry about as you make your trip. Still, Andorra is a sovereign nation and it isn't part of the European Union, plus it has a unique geographical situation, so it is worth taking a quick look at the Andorra entry requirements and that's exactly what we'll do in this guide to Andorra visa requirements.
Entry requirements Andorra: Do I need a visa for Andorra holidays?
First things first, it's important to outline a few facts about Andorra. Known officially as the Principality of Andorra, this famous skiing destination is a sovereign microstate located along the border between France and Spain, right in the heart of the beautiful Pyrenees skiing slopes.
There are very few Andorra travel restrictions, meaning that the vast majority of people will be able to enter the microstate without any complications at all. The only Andorra entry requirements that most people should need is to have a passport or an ID card that is valid and up to date.
"The Principality of Andorra does not require any type of visa," is the very clear statement from the Andorran government on the section of their website that discusses the Andorra visa policy and the topics of entry requirements Andorra and travel restrictions Andorra.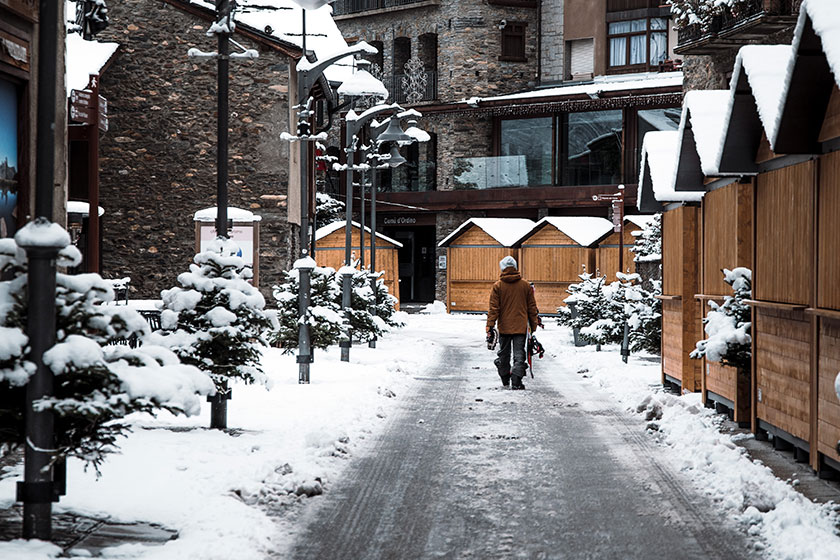 Travel to Andorra: Does Andorra have border control? Does a Schengen visa cover Andorra?
Even though the Andorra travel restrictions and Andorra entry requirements are very relaxed, one very important thing to keep in mind is how to get to Andorra and the fact that you won't travel there directly. That's because there is no airport inside the Andorran borders, with the Andorra–La Seu d'Urgell Airport actually located on Spanish soil some 18km from the microstate. Even then, there are virtually no international flights to Andorra–La Seu d'Urgell Airport, so you'll have to reach the Andorran border by passing through France or Spain, such as travelling to Andorra from Barcelona's airport.
This means that you'll have to make sure you have a valid visa for being in France or Spain, which are both part of the Schengen Area. There is no such thing as an Andorra Schengen visa because the microstate isn't yet part of the Schengen Area, but the travel logistics of reaching Andorra essentially mean that you'll need permission to travel in the Schengen Area in order to reach the principality.
Following Brexit, many people now wonder what the Andorra visa UK situation is for British travellers, but there is no need for British people going on an Andorra ski holiday to worry, as they'll be permitted entry to the microstate so long as they have enough days left for the travel time in France or Spain.
Some people wonder exactly what the Andorran border is like and does Andorra have border control as you pass through from Spain or France. The answer is that yes, Andorra does have a border control, although the priority here is customs control rather than immigration control.
Andorra visa requirements: Is there any situation when a visa is required for visiting Andorra?
It is important to note that there are some Andorra travel restrictions when it comes to visas, in the sense that you do need a visa if you plan to travel to Andorra for longer than 90 days. In this case, you would need to undertake the process of the Andorra visa policy, which can be started via the Andorra government website or at an Andorran embassy.