Travel from UK to Andorra: best options
In the world of skiing, it is well-known that the Andorra ski resorts are among the very best in Europe and the whole world. Anyone who has enjoyed a ski holiday at Ordino Arcalís or at any of the other resorts in the microstate comes back with glowing reviews about the quality of the slopes, the beautiful Pyrenean scenery and the famous Andorran atmosphere and nightlife.
In order to enjoy an Andorran skiing holiday, though, you first need to get to the principality and it isn't as simple as just booking a flight to Andorra since there isn't actually an airport inside the Andorran borders. Still, there are several other routes for how to get to Andorra. In this guide to how to go to Andorra, we delve in to the various travel options for reaching Andorra's ski resorts, with a specific focus on how to get to Andorra from UK.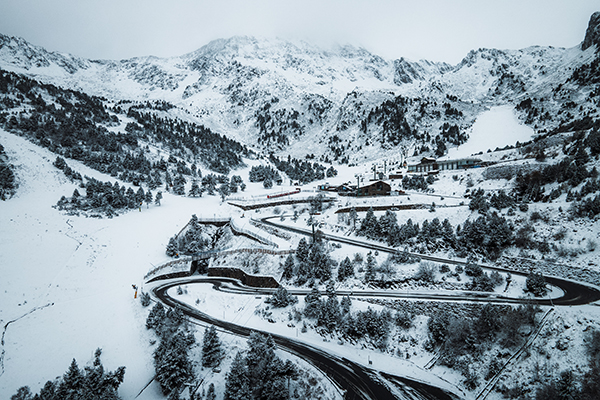 How to get to Andorra from UK: Can you fly to Andorra from the UK?
Andorra is a very popular destination for British skiers and the UK's foreign office estimates that around 150,000 British nationals visit Andorra on holiday each year. However, these tourists aren't flying directly to Andorra from the United Kingdom, because there isn't actually an airport inside Andorra's borders. There are a few helipads and there is an airport just 18km away from Andorra's capital, called Andorra–La Seu d'Urgell Airport and located in the Spanish town of La Seu d'Urgell, but these are also rarely used by tourists.
The lack of an airport leads many to wonder how to get to Andorra if travelling from afar and the truth is that the easiest method is to fly to one of the many major airports located within 260km of Andorra, which are: Girona (260km away from Andorra), Reus (240km), Barcelona (200km), Toulouse (195km), Carcassonne (176km) and Lleida (150km).
Travel to Andorra: How to go to Andorra from Barcelona
The most common of the above airports for how to get to Andorra from UK is Barcelona's Josep Tarradellas Barcelona-El Prat Airport. There are 28 different UK airports that fly to Barcelona's airport, so this is the best option for most British travellers wondering how to go to Andorra for a skiing holiday.
Then, once you land in Barcelona, there are at least six daily bus transfers to Andorra, and more during the Andorra winter skiing season. These bus transfers take little more than two hours, and are a quick, cheap and convenient option for how to go to Andorra from Barcelona.
Andorra visas: How to get to Andorra from UK without a visa
One of the positives of visiting Andorra on holiday is that British nationals don't require a visa to visit Andorra for tourism. It's only if you are staying in Andorra for longer than 90 days that you need to apply for an Andorra visa, a process which can be commenced via the Andorran government website or by visiting the Andorra embassy in London.
That said, all British nationals working out how to get to Andorra from UK should keep in mind that the lack of an Andorra airport means you'll need to pass through either Spain or France or perhaps both in order to reach the principality. Although British nationals can still travel through Spain and France without a visa, even after Brexit, it's important to keep in mind that travelling to Andorra from the UK requires a trip through more than just Andorra.