Ski touring and mountaineering in Andorra: best spots
Given its location in the middle of the Pyrenees, Andorra is one of the most beautiful settings in the world for skiing. While many visitors to the principality like to spend their Andorra skiing holiday exploring only the high-quality slopes of their resort, there are others who want to explore a little further.
The skiers who visit the 442 hectares of skiable domain at Ordino Arcalís are often keen to go exploring and to see the beautiful views of Andorra's most picturesque valley and that's why they'll incorporate some ski touring and some ski mountaineering into their trip.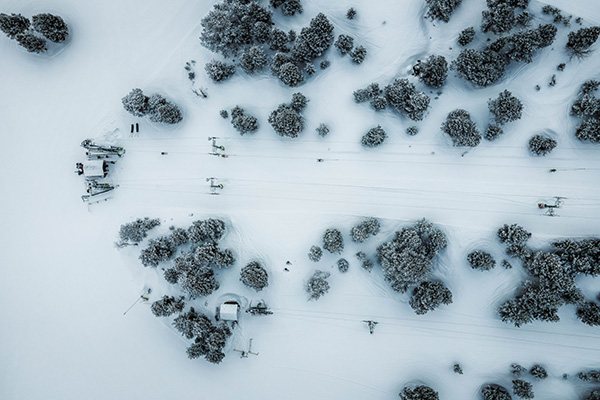 What is ski touring?
At the most basic level, ski touring is a form of skiing that takes place in the backcountry, usually on fresh snow and away from the traditional ski slopes of a resort. It involves uphill and downhill skiing, with the skis being kept on the whole time. It should be noted that the skier's heels are not totally bound to the skis while carrying out ski touring, although that may differ slightly during the learning curve of ski touring for beginners.
In the last few years, there has been a boom in the practice of ski touring Europe wide. More and more people want to take up this discipline because it combines sport with mountain sightseeing and this has led to more and more ski touring holidays for beginners.
What is ski mountaineering or skimo?
Meanwhile, ski mountaineering is a discipline that usually takes place on more difficult and challenging terrain than ski touring. The skis aren't kept on the whole time as there may be ascents that require other footwear.
While ski mountaineering can be practiced recreationally, this is also a competitive sport and it will debut at the Winter Olympics in 2026. The International Olympic Committee define it as: "Ski mountaineering is a winter sport where competitors race through snow-covered mountains using both ski skills and mountaineering abilities to get to the finishing line first. In 'skimo', as it's often called, ski runners have to ski uphill and downhill, hike through the snow carrying their equipment, climb icy rock faces with crampons, all the while orienteering the quickest route to the finishing line - and all that at the mercy of the elements."
Ski touring vs ski mountaineering: What is the difference?
There is a good explainer of the ski touring vs ski mountaineering difference in a book titled 'Backcountry Skiing: Skills for Ski Touring and Ski Mountaineering', written by Martin Volken, Scott Schell and Margaret Wheeler. There, they state that: "Ski mountaineering is a blend of multiple disciplines involving everything from snow safety to alpine rope skills to winter camping. It requires a depth of knowledge, skill, and experience that goes beyond what you must know in order to ski laps in the woods or the back bowls of your favourite ski area. Ski touring is the foundation upon which ski mountaineering is built."
Essentially, therefore, ski mountaineering a more extreme version of the ski touring for beginners that many first-timers may want to factor in to their skiing holiday. It should also be kept in mind that there are very different levels of ski mountaineering, Europe being one of the continents with the greatest variety of courses, so there should be a suitable ski mountaineering experience for all levels of skill and experience.
Ski touring and ski mountaineering in Andorra: What are the best locations?
With both ski touring and ski mountaineering, Europe is, as mentioned above, a brilliant place to try these disciplines, given the beautiful views that accompany the challenge associated with the activity.
Ski touring and ski mountaineering in Andorra is particularly rewarding, given the picturesque Pyrenean views, and Ordino Arcalís has several marked, maintained and safe mountain skiing routes. They have different levels of difficulty, with routes at La Coma, Les Portelles, Pic de Peyreguills, L'Hortell and La Font. They can all be accessed with the Ordino Arcalís Mountain Pass.